END THE ABUSE
IF YOU TRULY LOVE ELEPHANTS, YOU'LL
NEVER RIDE ONE. HERE'S WHY.
If you love elephants, please don't ride them! Elephants used for riding suffer extreme abuse throughout their lives. They're poached from the wild as babies, then isolated from other elephants and beaten until they're so terrified of people they'll do anything. This cruel practice even has a name: phajaan, or "breaking of the spirit."  Then, spirits broken, they are beaten, overworked, and seen only as money makers. We are committed to eradicating this abusive industry!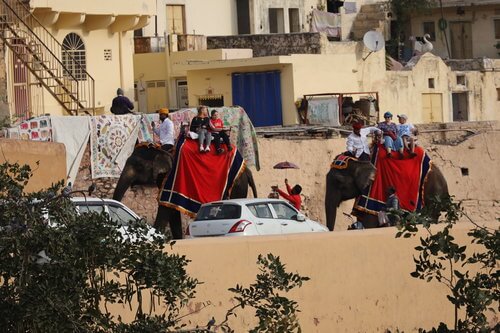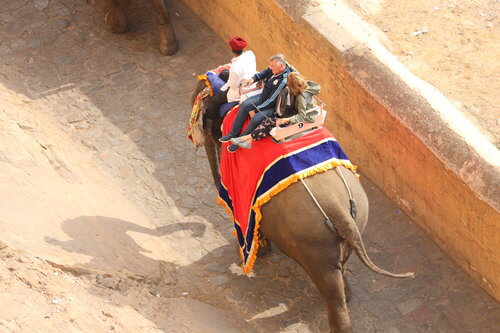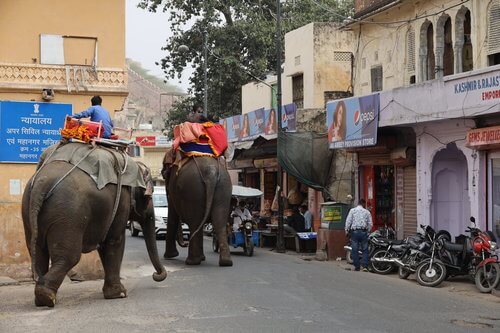 Elephants in Jaipur: The Statistics
From the 2018 Animal Welfare Board of India Report on Evaluation of Applications for Registration of Captive Elephants for Performance in Jaipur.
Weight of three riders + saddle: 880 pounds
Nearly one-third of Jaipur elephants are 50+ years old
Nearly 20% of Jaipur elephants are blind
100% of Jaipur elephants suffer from foot problems such as deformation and cracks
Stay informed. Don't visit places that offer elephant rides. Inform your travel agent and any local guides about your preference.
Share your opinion. Be vocal and object strongly. Post on social media. Tell your friends, family, and colleagues why it's important to avoid riding elephants. We know most people will avoid doing it once they know the issues. Spreading awareness is the key to reducing exploitation and abuse of animals.
Write to travel websites, magazines, guidebooks, tour operators, and travel agents to discourage them from offering elephant rides to tourists.
Write to the local tourism departments and the parks you plan to visit expressing your concerns about elephant riding. Politely request that they put an end to it.
Support only responsible tourism projects. Look into tours and centers that do not offer elephant rides. Make sure they are reputable conservation centers, sanctuaries, national parks, or wildlife reserves—places where tourists and animal lovers are educated about these special creatures in a conducive space that is safe for everyone involved.
TAKE ACTION!
We are petitioning governmental authorities to do all they can to help put an end to the abuse of elephants used for riding in Jaipur. Much of what takes place in the elephant-riding industry is illegal by Indian law. Help us put a stop to this!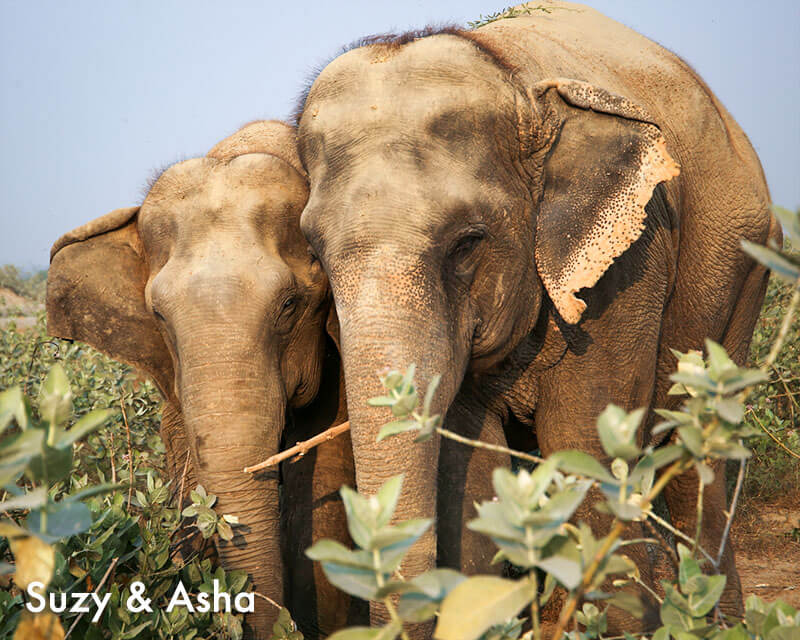 Asha is the Hindi word for "hope." It's also the name of a very special elephant who lives at our sanctuary in Mathura.
Asha was worked hard for years in Jaipur—a city with some of the hottest and driest weather in all of India—hauling heavy loads through the stone streets and up the steep hill to the Amer Fort, where some elephants have fallen to their deaths. When she came to our sanctuary in 2015,  her body was pockmarked with abscesses from sleeping on paved roads. She was unable to walk properly because of joint damage in her legs, and her feet were deeply cracked. Holes had been dug into her ear folds dug the sharp implements "trainers" use to force elephants to obey. There were fresh wounds on her face from her owner's bull-hook. 
But something remarkable happened. For the first time in her life, Asha had access to good food, clean water, veterinary care, and green space, and the healing began in earnest.  She quickly found a small family of other elephants—Peanut, Suzy, and Coco among them—and they adopted her as their matriarch.

And that is her story. This downtrodden elephant, beaten and abused for decades, blossomed into the heart and soul of our rescue center. The wounds from her past are deep, and they will take time to heal if they can heal at all. But Asha's life shows us that with compassion and love, even the most battered of elephants can find the beautiful, sensitive spirit that was always inside. Asha, your name truly does mean hope.
Beware of False Tourism Claims
When booking your travel, be skeptical even when places advertise themselves as an "ecotour" or as "humane." If they advocate for the riding of elephants, painting/decorating them, or if they keep any elephants in chains, they should be avoided.

To experience elephants in a humane way, please visit Wildlife SOS Elephant Care and Conservation Center in Agra to meet our rescued elephants.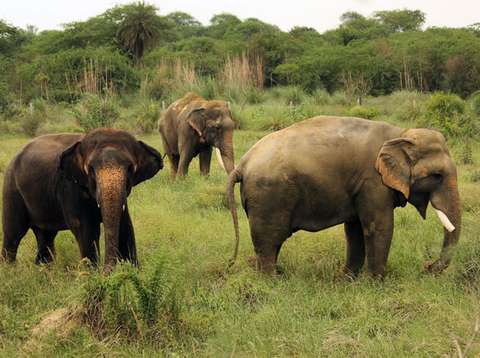 Frequently Asked Questions